Even though I got to the lake at 7.30am it was already pretty busy by weekday standards - I spied 2 kayaks up by the first point who were already casting around. So I wasted no time, got on the water and leapfrogged them round to my first spot of the day, 'Red Kayak Bay'. In the last two sessions this produced fish for both myself and Peter from PTPFishing but today there were no takers... In fact, I didn't get a single hit in the fist 3 spots I tried which was pretty surprising... Maybe today wasn't going to be my day after all?!
It wasn't until the 4th spot some way up the lake that I got my first and very welcome hit. Its a new area that I'd tried on my previous session and although it was only a small bass, it was encouraging and woke me up!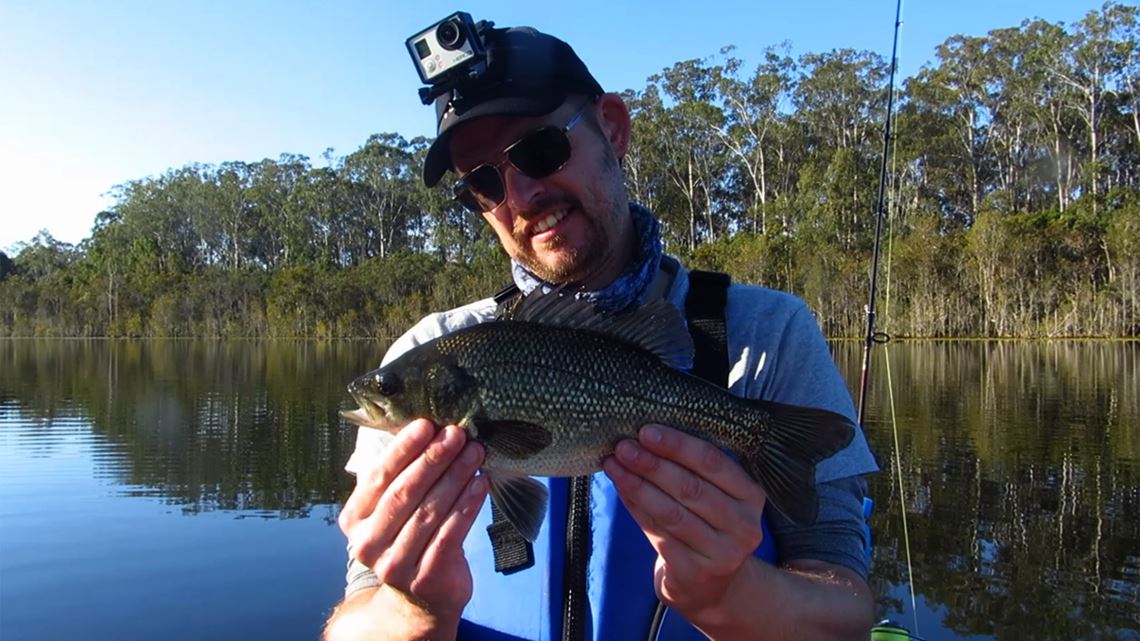 But it was the next spot, the first point you come to after the rowing buoys that bisect the lake, that things really kicked off. I had a massive bass (the thumbnail for the YouTube video), followed by a couple of smaller ones and then a surprise Saratoga!
I'd heard of these fish but never seen one and far out, they are a strange beast... Almost prehistoric in appearance, incredibly sinuous and powerful it gave me an excellent fight over the weed beds and it was a real challenge to get it in the net. But the real challenge was getting it held up for the cameras! it was so wiggly, strong and slippery and after a couple of failed attempts it slipped from my hands and disappeared back into the water before I could get a decent picture... So it was amazing to catch one but I'm going to have to catch another one so I can get a trophy shot.
And then from nowhere the weather turned! It'd been beautifully sunny and calm but then a huge cloud rolled in, the wind got up and it absolutely chucked it down. The fishing continued to be good, with both 'Fence Bay' and 'Kangaroo Point' producing fish after fish, nothing massive but loads of fun.
By the time I headed out of the last spot, the weather had got pretty grim and a strong wind was blowing up the lake. Although I was tempted to stick it out for another hour I decided to err on the side of caution and head for home and I was glad I did. It got pretty hairy at the last point before the launching station, with waves splashing over the bow of kayak and the boat filling up with water... But I made it back without capsizing, so it all ended well.
So another amazing day on the water at Lake Kurwongbah! I'd filled my boots, probably the most bass I've caught in any session and that bonus Saratoga was just amazing. Can't wait to come back.