I've not been on a 'proper' carping session for quite a while now due to my recent obsession with Pike fishing but with spring in the air that's all due to change. This seasons challenge is to do more overnighters and get some bigger fish on the bank and to make that dream a reality I'm gonna need to get out to some new venues.
I'd heard about Oak lake at Lakeside View Fisheries from Terry Smith at Innate Baits a year or so ago. It's 10 acre water down near Cullompton in Devon and from the info I'd managed to find on line, there are some fantastic carp to be had.
The lake has 17 swims but only 14 are in use at any one time meaning everyone has their own 'space' - some thing I find very attractive as crossed lines and casting into other peoples swims is top on my list of 'un-carpy' habits attributed to anglers of the carp fraternity. It's a new lake around 3 or so years old meaning there's not much in the way of bankside cover so most of my fishing would be at a reasonable range... which is great! Having stepped up my gear recently I'm desperate to practice my spodding and accurate casting. Wrap that up with 400 carp in the 12lb to 35lb bracket and you've got a spot on venue to start the season with.
So, back to the Saturday morning. Even though I'd prepped everything the previous evening, it still took me an hour to get on the road... It doesn't matter how much I refine my gear, I always seem to have loads! But good news was the rain had eased off and as I got onto the M5 my phone politely informed me that 'You are on the fastest route and your route is clear. You should arrive at 7.20am'.
After negotiating the lanes of Cullompton I finally pulled into the farm at 7.40am (Google didn't plan on a coffee stop...) and got my 1st view of the venue. Even in the grey, cold, windy and rainy post dawn it looked good!
The complex starts with Birch Lake (the 3 acre runs water) on the left and then Oack lake to the right which also has the onsite lodge containing a kitchen, seating area, shop bathrooms and showers. There are a couple of stock ponds behind Oak lake but apart from that, the waters are surrounded by picturesque farmland and rolling hills. I was beginning to chill out already.
The car park wasn't too full (a good sign!) and after having a quick chat with Peter the baliff we decided peg 8 at the far end point of the island would be a good point to start.
Now I'm not too in the creature comforts when I go carp fishing (Sky TV, hot tubs and onsite catering is not what I'm looking for...) but one amazing service this lake has to offer is a quad bike with a trailer that Peter will use to get your gear to your swim - amazing! Having said that, I'm still a fan of barrowing around a little gear as if gives you a chance to view the water so while Peter set off in one direction with my heavier items, I set off in the opposite direction with my bag and rods on the barrow to my chosen swim.
Where to begin?! I had a bit of a plan in my head so I put it into action: stage one, get the bait sorted.
I'd brought two different types of boilies supplied by Innate Baits, the tuna and the rednut in 15mm. As I'd decided to go the washed out bait route for this session, half of each 1kg bag went into a 1 pint bait tub filled with lake water to defrost and soften up.
Next up, spod mix: super simple, 2 pints of hemp (again frozen solid!), half a bag of frozen sweetcorn and a pint of mixed pellets. A handful of ground bait to stodge it up and 1/2 a pint of lake water and this was left to bed in, with the only other additive being a good lug of hemp oil that would be added once things defrosted. I've been using hemp for ages now. It really compliments the spod mix and has the added advantage of putting up a slick when the fish graze over the bait. It's also usable all year round as it doesn't gloop up like many fish based oils.
And finally, where to put the rods? I had a big expanse of open water to my left, the island point directly in front of me and more open water the right. As swim 10 to my right had two anglers already in it, I decided to concentrate my efforts on the island fishing both rods on a baited area.
It was semi pointless getting the marker rod out, the wind was so strong that accurate casting was going to be a big challenge. So instead I used a single rod, casting to a island and slowly clipping the line up until the lead fell about 1/2 a rod length from the far bank. Although I wasn't getting a 'donk' on the lead (the lake bed is a soft, karki coloured mud) the drop felt pretty good, I'd estimate 5ft bang on the island shelf, dropping a little bit deeper at the 1/2 a rod length mark. A channel perhaps around the island? Sounded good for a bait.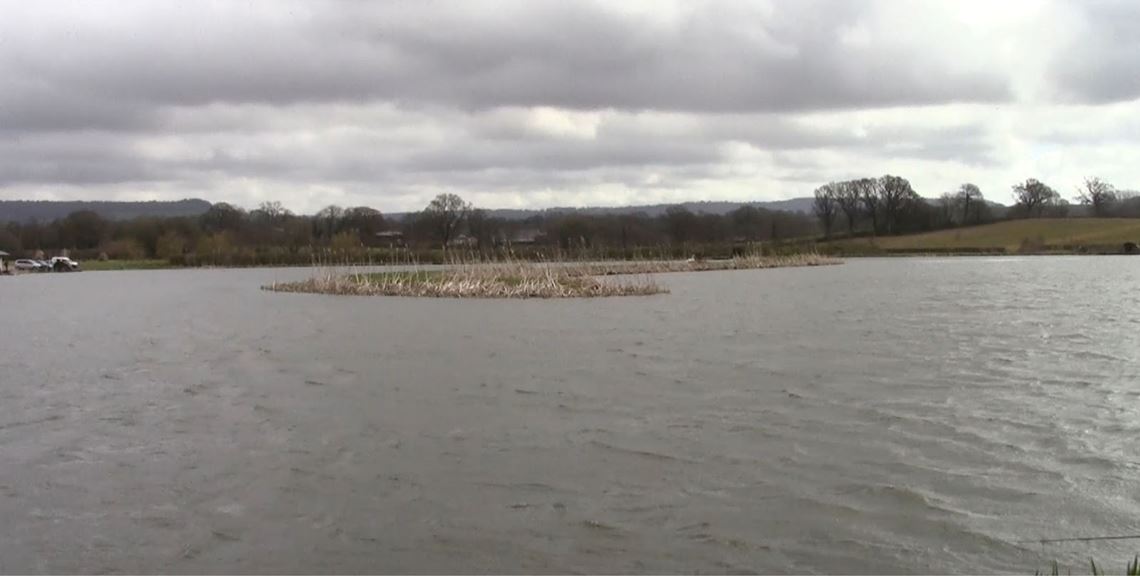 The cast was exactly 9 1/2 rod wraps and that put a bait to the right of the island point. The other rod was 11 rod wraps and that landed the bait into a little bay on the left hand curve which was almost sheltered from the wind. I figured I'd vary the wraps every other cast to move the bait forward and backwards.
Now 9 1/2 wraps is by no means a 'big' cast' but with the cross wind, it was bloody difficult! After two failed attempts for each rod I managed to get the baits where I wanted them, both with PVA bags of pellets, boilie crumb and one of each different boilie on the hair and then got about spodding out some bait. Again, the cross wind played havoc with the accuracy and of the 10 spods I put out over each bait, I'd say 4 landed bang on the money...
But I felt pretty good with the set up and decided to sit it out for a bit, giving me a chance to watch the water for an hour and then set up base camp. There was very little point in adopting a 'mobile' approach as the lake was pretty busy by now with all but 3 swims taken. Luckily for me, the swims to my left and right remained vacant.
I watched the water like a hawk over the next 10 hours, only recasting my baits 3 times a piece and topping up the swim with a trickle of bait either with the spod or catapult. The rain stopped and the sun came out but that cold wind was a shocker...
With nothing to report I got dinner on the go and then re did the rods for the night, finally getting my head down at around 9pm. I set an alarm for midnight and drifted off to sleep...
When the alarm went off it was a real struggle to get out of my sleeping bag! It was cold, it was raining and the idea of sorting out two solid bags for the rods was not really want I fancied... But effort equals reward so get to it man!
An hour or so later I was back in my bag and trying to get back to sleep. Interestingly, I began to hear crashes around me... Fish were poking their noses out! Maybe, just maybe I was in with a chance...
But it wasn't to be. I woke the following morning around 8am feeling slightly dejected. It was a bright morning but that wind was still strong. So I decided to reel in, take a walk to the lodge to do my washing up, get breaky from the car and catch up with the other anglers. As it turned out, the fella to my left had got one during the night! We had a good chat about this and that (he recognised me from my YouTube videos!) and by the time I'd got back to my swim. it was around 9.30. The rods went out, the breaky went on and I sat back to watch the water.
The other thing I was watching was the weather: it was sunny now but set to chuck it down around 1ish. As I looked round the lake, I noticed that several of the previously ocupied swims were empty and a plan began to form in my head. There was little point plugging away at this swim, if the fish weren't here in the windy conditions yesturday, they probably wouldn't be here today. So my plan was to get the bulky gear packed down, get it back to the car before the deluge and then treat the rest of the day as a short session, maybe trying a couple of swims rather than staying put.
After a tour of the lake swims 15 and 16 tickled my fancy. 16 Was directly opposite me at the other end of the island but 15 had access to the island point and, with a beefy cast, access to a sheltered bay near the island.
In the end I settled in 15 and set about my approach. This time, I decided to fish a single popup out towards the island point with a scattering of boilies around it. It was an easy cast, around 8 wraps so that rod went out and was forgotten about.
The left hand rod out to the island bay was more off a challenge. After 2 test casts I worked it out to be 14 wraps - far further than I'm used to fishing! This was going to be my 'all in' spot and I set about dumping 10 spomb fulls of my spod mix on the spot. Luckily for me, the wind had dropped making things a bit easier and 7 of the 10 spombs landed on the spot. Next up was the rod: this went out with a solid bag of pellets, a big glug of hemp oil and a tuna boilie on the hair. Amazingly, I got it on the spot 1st chuck! Happy days.
Interestingly, the angler who'd spent the morning a couple of swims to my right in my old spot suddenly leapt in to action and next think I knew, he had a fish on the mat! Amazing result as when I'd spoke to him earlier, he was saying he'd been down every Sunday for the last 7 weeks and not got a thing...
By this point the weather had completely changed again. The wind had gone, the sky was grey and threatening rain and the temperature had gone up a bit making it feel almost muggy. I was fair bushed so decided to shelter from the rain and get my head down for an hour before waking up to move the rods or get ready to make a run for home...
I'd been dozing for around 20 minutes when out of the blue, the bobbin climbed on the left hand rod in the island bay... As I came to my senses, the clutch started to scream and the rod tip started to pull round to the left into open water.... FISH ON AT LAST!
The moment I had the rod in my hand I could tell this was a decent fish. Half asleep, legs shaking I slowly pulled the rod tip round in a low arc, trying to direct the fish and bring it up to the surface. After 10 minutes or so it was slowly coming into the near margin where it decided to kick off a bit! But in the end, it slipped over the net cord and I gazed down into the net to see an absolute (well, by my standards!) monster splashing around in the shallows.
After a bit of mucking around with weigh slings and cradles I managed to weigh and get a good look at the fish. It was a thick set mirror of 24lb on the nose and I was buzzing! I've not held a fish this size up for the camera before and it's actually not as easy as it looks! But I managed to get some snaps, a bit of video and get the fish slipped back.
After that, there was no chance of sleep, the adrenalin was still flowing. So I got the rods out for what would be the final hour or so of the session and sat back to chill for a bit. Interestingly, a group of anglers on the far back on the other side of the island gave a shout they were into a fish! So that was the remaining three anglers on the lake all catching within 20 minutes of each other... A really short but productive feeding spell!
There were a lot of thoughts floating around my head as I packed the gear down. I'd been saved from a blank by my new personal best Mirror Carp and had a great time. There are a million things I'll do differently next time, including hopefully getting down during the week (when they allow 3 rods!), being more mobile, getting more accurate with the spod at range, being less active during the day and more active at night... the list goes on!
Can't wait for the next trip. I noticed on Facebook that a 29lb mirror came out during the week so that's something to aim for!