I've heard a lot about Lake Kurwongbah both from Peter, on YouTube and in various tackle shops around Brisbane and from what people were saying, it's probably one of the best stocked water ways in South East Queensland. As its now winter the fish might be a bit more shoaled up and potentially sitting in deeper water but it was defo worth a go.
We met up around 6.30am at Mick Hanfling Park which is the only place you can launch a kayak from on the lake and set out on the water. The first thing I learnt was that my usual tactic of casting to cover was not going to work here as there was a lot of weed stretching right from the edges to maybe 20 or so metres out into the lake - casting into that would result in an instant snag! So after a bit of a look at Peters sounder and some advice on where to cast I got to throwing a Rapala Rap-V Blade around the launching area.
So the approach with this lake was to cast towards the edges until you find the edge of the weed, mark that spot in your mind and cast again. The fish love to sit just off the edge of the weed and in the towers of weed off the main weed beds and if you can get your lure 'plucking' through the clear spots you were in with a good chance of getting a hook up.
I was trying to get my head around this new tactic when I glanced around to spot that Peter was already into his first fish! In fact, he managed three before we'd even left the launching area... Me? I was still getting snagged in weed - there was clearly going to be a learning curve to getting my first bite at Lake Kurwongbah​!
But luckily I didn't have to wait long. We headed around the corner and got to casting at a new spot and bang - my first fish was on! Sadly, it was tiny...
Ah well, the first one is always a welcome blank saver and it had taught me a thing or two about where to cast. Not surprisingly, Peter was already on fish and managed to pick off a couple more before we moved on, including this beast.
The next spot was 'Nursery Bay', so called as Peter mentioned it was generally full of small fish. However as we nosed around the corner we spotted 3 kayaks already patrolling the area so we decided to head across the water and head up the lake. This involved crossing the line of buoys which marked the line that rowers use up and down the lake - it's almost a highway and as there were a couple of craft heading up the lake we had to politely let them pass. This was already turning out to be a very different experience to fishing Enoggera, kayakers have to give way to all other water craft and stick to the edges.
As we got to the next point Peter disappeared off to the bankside to answer a call of nature and I decided to have a cast around towards the centre of the lake, drawing my lure towards the weed bed I was sat above and on the 3rd chuck... BANG, I got an absolutely savage take!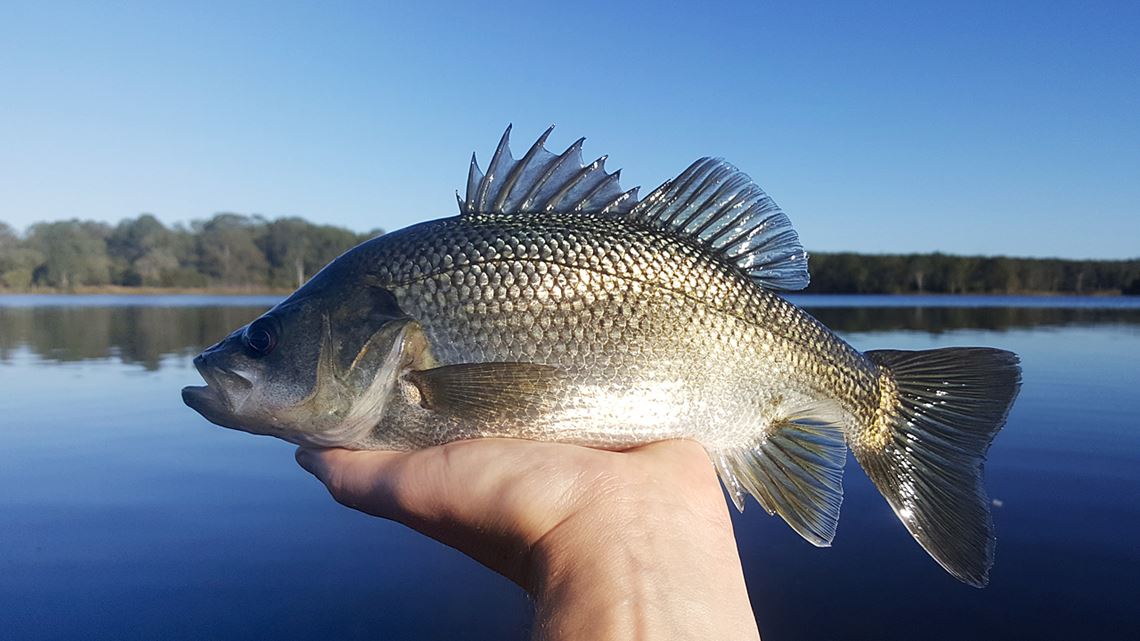 This fish really knew what it was doing and immediately dived for the weed bed, but luckily I'd managed to get it high in the water and although it was a tricky tussle I managed to get the line free, the fish into open water and finally into the net. What a cracking hit and fight, these bass really do go, so much fun on light spinning gear. I don't have a fishing ruler as yet, but I'd give it a good 25cm ish which was a new personal best for me.
Rounding the corner we started working the next bay and got several more bites before the wind picked up and we decided to head up the lake. There definitely seemed to be a concentration of smaller bass around and Peter was keen to head to the top end which is quieter and seems to hold the bigger specimens. I have to say, he was really showing me up, catching fish after fish and some decent ones at that. But watching where he was casting and taking on the advice offered really helped me out and I was slowly beginning to build up a good bag of fish - it's amazing having a guide on a new water!
It wasn't until we got to a bay that I've named 'Kangaroo Point' (due to spotting a load of roos hanging around!) that I finally got my chance at a better fish. We'd had a few experimental casts and I'd managed to find the edge of the weed bed when I got my first hit. That was only a small fish but it was a good sign there were others around so I cast to the same spot and seconds after starting winding I received an absolutely explosive hit! This thing tore off, dragging the kayak in circles and leading me a merry dance in the weed towers. How it didn't get snagged I'll never know but after a decent battle the fish finally slipped into the net and it was a beast. My biggest bass to date, it went 38cm on Peters fishing ruler which was just an amazing result.
The only bugger was that in the excitement of catching it, then transferring it to Peters net so he could tag it, we slipped it back before I could get a trophy shot! Far out... Ah well, you'll just have to take my word for it... But either way, I was over the moon and having one of the best fishing sessions I've had in a long long time.
By now time was matching on and having spent a good 5 or so hours on the water we decided to start making our way back to the launching area, stopping off at a few 'hot spots' on the way. I managed to pick off another couple of bass, as did Peter which meant between us I reckon we'd had a good 20 or so fish throughout the course of the session with at least 5 of them being over 30cm.
So another excellent day on the water. I'm indebted to Peter for joining me, his wealth of knowledge and enthusiasm is amazing and it was incredibly generous of him to show me the ropes and share some of his 'hot spots' at Lake Kurwongbah. If you haven't already, check out his channel on YouTube and if you're planning a trip to Lake Kurwongbah definitely watch his PTP Fishing - Redemption - Lake Kurwongbah video:​
I will be back... very, very soon!