At 105 hectares in size and 2 miles in circumference, Cheddar Reservoir is the biggest water I've fished in the UK and quite a daunting challenge. Where do you start?! Pub chucking dead baits into the abyss didn't seem the way to go but it was no easy task finding out any information on how best to approach this beast of a venue...
Luckily for me, the bailiff (who's number I found on the Cheddar Angling Club website) was happy to provide some invaluable information on where to start, as was Gary at Veals Tackle Shop. Both said that the western and southern sides of the reservoir was where the deep water was to be found and that fishing ledgered sea baits was the best method.
It took quite a while to get to the venue after dropping the kids at school, mainly due to several roads in the surrounding area being closed and Google Maps completely losing it's sh*t and sending me off in a wide arc rather than straight to the water... But I finally pulled into the car park on the northern side of the reservoir and set about barrowing (yep barrowing, I went in heavy!) my kit round past the tower to my chosen spot on the north west corner.
First task was to set up my rod pod. Now I've never used a pod, having always been a single bank stick kinda guy. But as Cheddar Reservoir is essentially a concentre bowl with a stepped bank, a rod pod is a required bit of equipment. After a bit of research online for rod pod alternatives, I found a suggestion from someone to use a camera tripod... Luckily, I have a spare heavy duty tripod kicking around and after a bit of time with a drill, the glue gun and a couple of bolts I had myself a rock solid pod! I knew GCSE woodwork was worth taking all those years ago ;)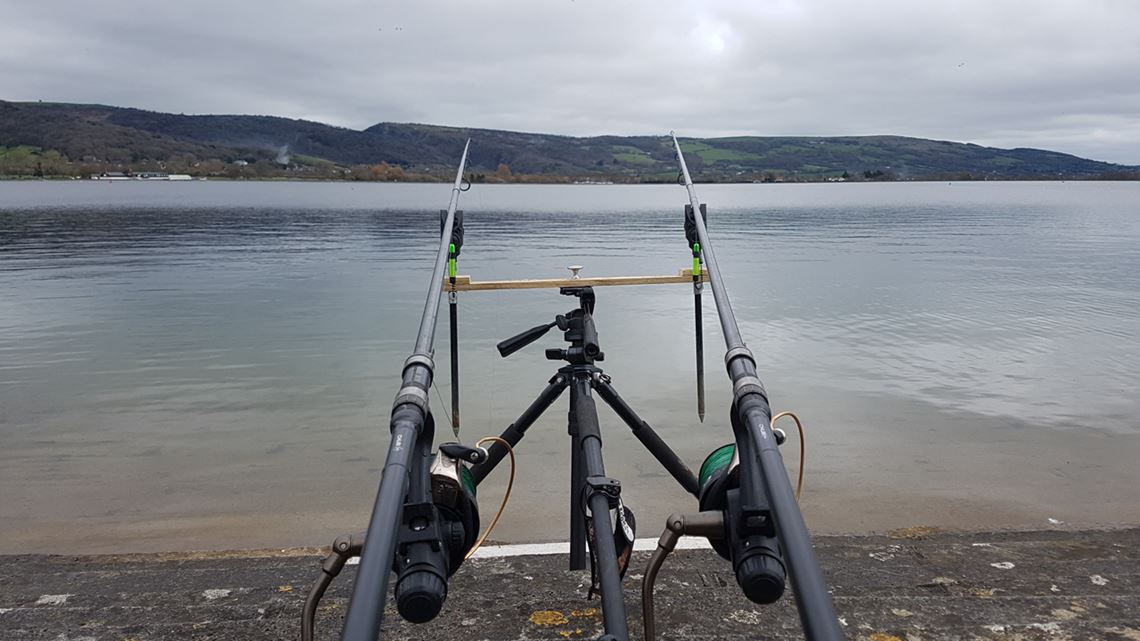 Rod wise, I went with my usual 3lb test curve carp rods but rather than the usual midsize baitrunner reels I use on the river I went for my bigpits loaded up with braid which would hopefully give me a better casting distance. Apart from that, the set up was the same with 2oz gripper leads with big eye swivels and my regular wire traces. One rod went out with half a mackerel and the second with a sardine and I sat back to see what happened...
...which was not a lot! Over the next couple of hours I moved three times, which each hop being 20 or so meters further to the my right along the western wall of the reservoir. The weed didn't seem too bad with only small clumps coming back on the lead or on the trebles so I was pretty confident the rigs where well presented.
Around 1ish my mate Jim (from 'Jim's Lure Challenge') arrived and set about getting his lure rod set up... at which point, the left hand rod sprung into live with a blistering run! Amazing, seriously he is a bit of a lucky charm ;) However, my luck wasn't in as on striking the rod it was quickly apparent the fish had spat the bait. Damn. After such a long wait and getting a run at probably the most unlikely time of day it was pretty gutting to have lost it. I get the impression that bites are few and far between and if this was going to be the only run of the day, it was pretty frustrating for it to have fallen off!
But hey, it gave me hope and the rod went back out to the same spot toot sweet. One other thing that I'd started to do was spod out a pretty foul mixture of chopped up mackerel heads, sardiens, herring, sprats and thai fish sauce (basically, all the leftover bait I had in the freezer from previous sessions!). If the slick on the water was anything to go by, there was a big sent trail in the water and fingers crossed the pike were homing in on it.
Which seemed to be the case as after 20 minutes the left hand rod ripped off again! This time, I was a bit calmer and left the fish run after I'd picked up the rod. A strong strike and.. fish on! But only for seconds, as after a couple of heaves on the rod the line lightened up and all that came in was a big ball of weed... Double damn.
A bit deflated, I decided to keep moving up the bank and Jim set off on a lap of the reservoir in search of perch. Time was beginning to march on now and with only 3 or so hours of light left I was beginning to feel I was looking down the barrel of a blank. But no, I will not be defeated! I decided to head back to the spot that I'd had the two runs from and fill it in with the remainder of my gross spod mix and cast my baits right into the middle of the slick. The only change I made was to replace the trace on the left hand rod with a popped up sardine. I've never used popped up baits before but my feeling was that the pike might not have managed to get the whole bait in their mouth as it was resting in weed. With the bait popped up vertically above the weed, my thinking was that the bait would be easier to grab and the hooks easier to set.
As it turns out, the change of tactic made all the difference as around 5ish (which I had a feeling would be 'bite o'clock') the left hand rod sprang into life with a one toner! This time I took a big deep breath before picking up the rod, if this was to be my last chance to bank a fish I wanted it to count. Feeling the braid in my hand I could feel it twitch and move away from me so the fish was definitely on... A quick reel down to take up the slack, a really solid strike and bang - fish on at last!
The pike went mental and really pulled back. Fights on the river can sometimes be over in minutes as you tend to be fishing quite close in but as this fish was a good 60 yards out it felt like an age before it showed in the margins. The water in Cheddar is incredibly clear and to see this black shaped slide towards the net was incredibly exciting. But after a few lunges in the shallows a plump Cheddar Reservoir pike slipped into the landing net - happy days ;)
I didn't weight the fish but it felt like a solid 14lb or pounds, with a really big tummy and a thick set back. It was completely different to its river relatives, very dark across the head and back but lilly white on its underside - a bit of a looker to be honest and I was made up.
After the pike was slipped back I fired the rods out again but despite it looking spot on for a bite there were no more takers and Jim and I spent the last hour watching the bats chase flys over the water before packing up and heading back to the cars in near darkness at around 6.30pm.
To have got 3 runs and 1 fish may sound like a poor result but for me, I was over the moon. It's such a massive piece of water and I'd really thrown everything at it. The session could've easily ended as a blank but with the right advice, a good bit of research and a big slice of luck it'd been a great day.
The question is, can I squeeze another session in before the pike spawn and I return to Australia?! We'll see...