A very quick fight and one angry looking pike was in the net. To say I was overjoyed was an understatement! Not a massive fish but a fish at last. Too good.
After that excitement, I decided to stick to my original plan and head onto the cut for the last hour or so of light. Although I had a couple of knocks after casting out, there were no takers and I decided to call it a day.
So with a bit of luck, that's the end of the river blanks?!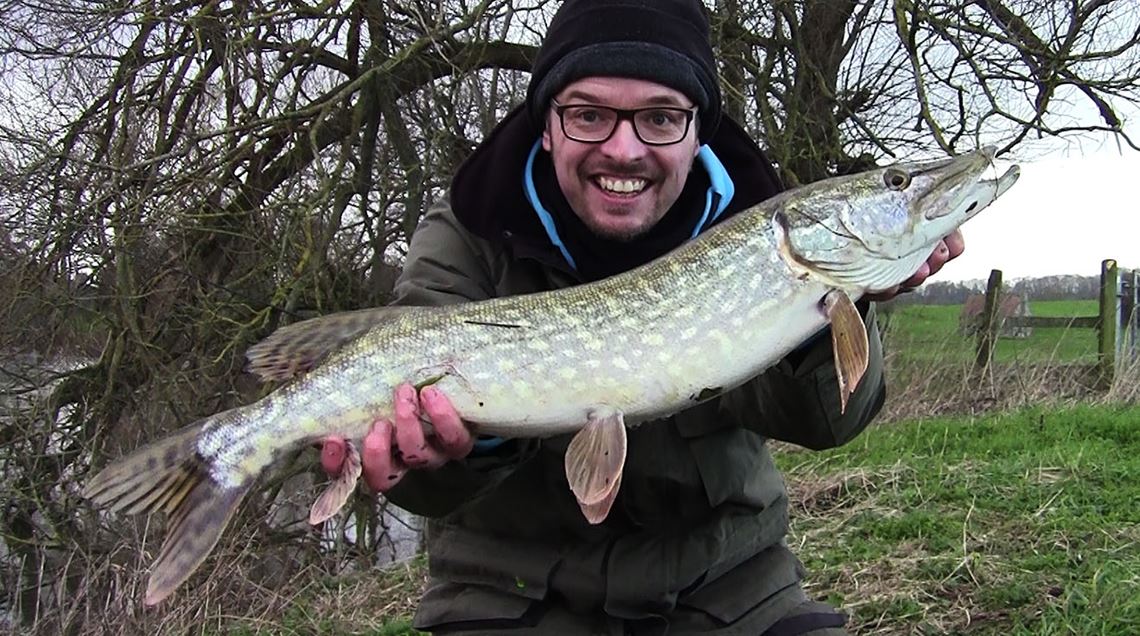 But I was determined to give it another go and with a week of frosts and then a sunny day predicted for Saturday, I decided to throw everything I had at it. The plan was simple, keep the session short (only 4 hours), travel very light (I've managed to get it down to a small rucksack, rods, landing net and unhooking mat) and move through as many swims as I possible could.
The swim I'd had such success in on the 2nd trip out was pretty much unfishable due to the speed of the flow. We'd suffered some heavy rain overnight on the Friday and it'd pushed the water level up a foot or so from normal meaning a test cast to the far bank ended up with the bait either in the middle of the river or the nearside margin. Not ideal. So I used this swim to get set up and then moved on within 10 minutes.
The 2nd swim was one I'd lost a pike in on a previous session and although the water was hacking through, I figured it was worth a go. Unfortunately for me, within minutes of getting the rods positioned one of the boat people decided to go upstream in his dingy... and then within five minutes, he decided to come back again! This pretty much killed the swim... the outboard motor caused waves to come splashing up the bankside and I figured any fish within a mile radius had probably headed for cover?! So after 10 minutes it was time for another move.
My next target swim was on the corner opposite what I've found out is an old soap works. But by the time I'd wandered to it, I'd got it into my head to push on and see what other swims the river had to offer, my thinking being to use this swim as my last spot on the way back.
As it turned out, there wasn't much else that looked 'pikey' in the next two fields! If we ever do get a succession of hard frosts and the water level and flow drops to a fishable level there maybe a spot or two but with the conditions as they were, there wasn't anything that screamed pike. I did try one swim that looked worth a go, with a fallen tree to the left and a line of reads to the right. But the right rod got snagged and I had to pull for a break which was really annoying! So I called it and headed back to the corner soapworks swim.
Having trashed one set of tackle in previous swim I decided to rig up that rod with a float and leave the other rod with a ledger. I like the idea of drifting a bait along in the current and as the corner swim has a back eddy running through it, it seemed an ideal spot to give it a go.
I had a good chat with a couple of anglers who were out walking their dogs while I waited for a bite. They told me about the huge carp that patrol the marina and river.... I'm looking forward to having a go for them over the summer! They were both surprised that I'd not had anything out of the swim as they both commented it was a banker in the past...
But after 20 minutes, there were no takers. With another blank looming I was beginning to get very despondent and as a last gasp, the decision was made to reel in and head back to the cut for an hour before calling it day...
I was just reeling in the float rod when a quick succession of beeps sounded from the ledger rod out towards the snaggy tree to the right of the swim! It was a cracking bite and I took no time in leaping across the swim and hitting the fish with a sharp strike to the left. There was a strong resistance on the end of the braid and it was fish on! At last!